Event
NSB Sponsors 5th ANNUAL VERMONTERS' BALL
Date: 5/6/17
Time: 8:00pm
Location:
Hilton Burlington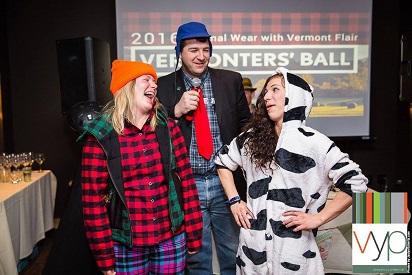 The 5th Annual Vermonters' Ball will take place on Saturday, May 6 from 8-11 p.m. at the Hilton Burlington. This annual professional networking and social  event is hosted by Vermont Young Professionals (VYP), Vermont's statewide young professionals' organization.
The annual Vermonters' Ball is VYP's most popular connect event. The evening brings together young professionals from around the region—all for a good cause. Partial proceeds from the evening will benefit Spectrum Youth & Family Services. "VYP is pleased to partner with Spectrum. Last year we were able to donate $500 to support MÖBIUS, Vermont's mentoring partnership. This year, we are excited to  support another important Vermont organization doing great work in the community." says Paul Dame, VYP President and event committee chair.
In addition to raising funds and awareness for a local organization, this annual event features an unusual dress code: "Vermont formalwear." Guests pair cocktail dresses and sport coats with mud boots, camo, or plaid flannel--depending on their personal interpretation of the theme. Prizes are awarded for best dressed.
The event includes music by DJ Craig Mitchell, dancing, photo booth, snacks and a silent auction with proceeds to benefit Spectrum Youth & Family Services. Tickets are available for $15 in advance/$20 at the door.
The 2017 Vermonters' Ball is sponsored by Northfield Savings Bank.
For more information visit www.vyp.org.