Event
NSB Footrace Benefits Everybody Wins! Vermont
Date: 8/31/19
Time: 9:30am
Location:
Northfield, VT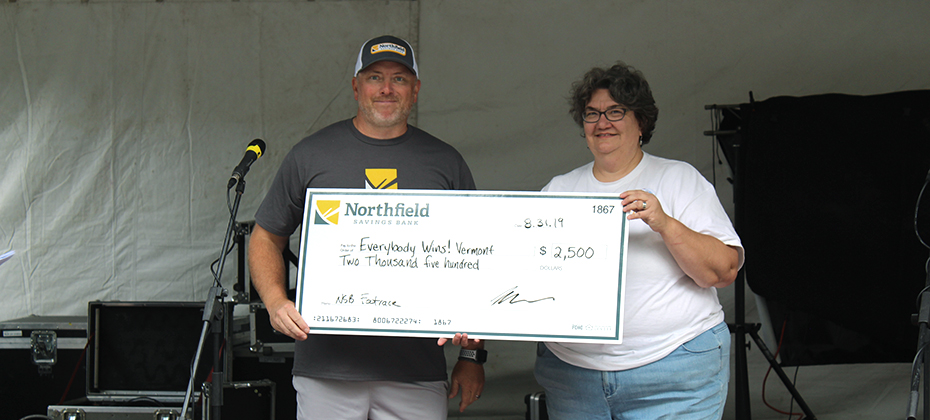 As a result of the 41st Annual Northfield Savings Bank (NSB) Footrace on August 31st, NSB donated $2,500 to Everybody Wins! Vermont.
Everybody Wins! Vermont helps children LOVE to read so they can have a good life when they grow up. Over 600 community citizens volunteer as Everybody Wins! mentors each year. They are matched one-on-one with a child to read every week over lunch at school. Join them and change a child's life. See everybodywinsvermont.org or call 802-229-2665 to get started.
With over 160 runners and walkers, the 41st Annual NSB Footrace kicked off Northfield Labor Day Weekend from Saturday, August 31st to Monday, September 2nd. NSB is proud to present this three-day festival celebrated in the heart of Northfield. Many joined to kick off autumn and celebrate Norwich University's 200th year with free family-friendly entertainment, food and craft booths, live music, Labor Day Parade, and more!
****
Northfield Savings Bank donates 10 percent of its annual earnings to Vermont non-profits as part of its long-standing commitment to give back to the communities it serves. For more information about NSB's Community Giving, please visit our Community Giving page.
For more information about Everybody Wins! Vermont, visit everybodywinsvermont.org.
For more information about Northfield Labor Day weekend, visit northfieldlaborday.org.