Meet Elena Bilodeau, Coordinator of FLEX Programming at CCV
Date: 12/7/20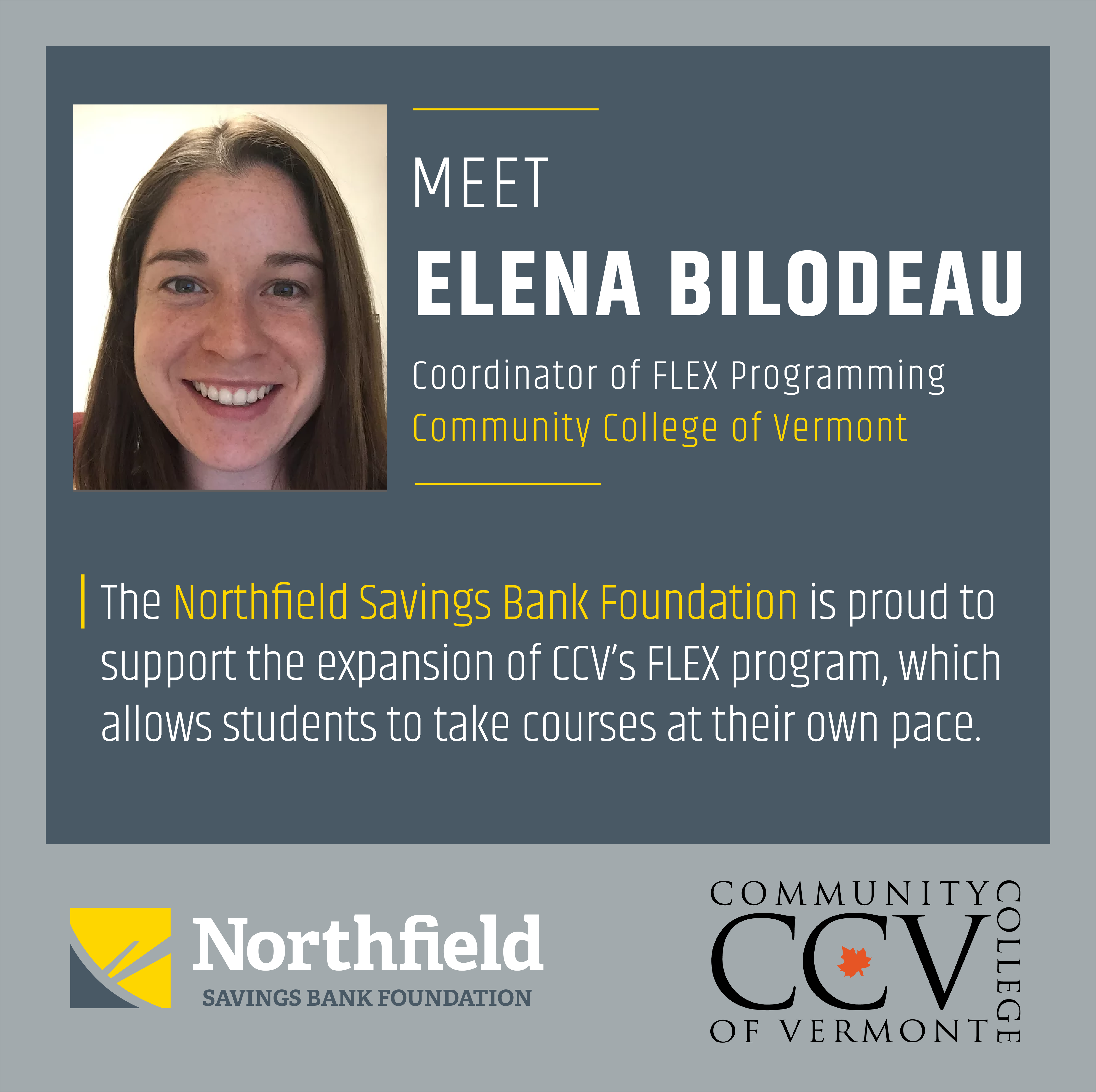 Meet Elena Bilodeau, Coordinator of FLEX Programming for Community College of Vermont (CCV). The Northfield Savings Bank Foundation is proud to support the FLEX Program with a two-year $200,000 grant. Learn more about Elena and her position at CCV in her Q&A below. To learn more about FLEX, click here. 
Tell us a little bit about yourself!
I grew up in Waterbury and attended Saint Michael's College for a Bachelor of Arts in History and Secondary Education and a Master of Education with a curriculum concentration — go Purple Knights! I left Vermont for a period of time to serve a year as an AmeriCorps*VISTA, and to work at a higher education institution in Boston before the pull back to Vermont was too strong to resist! In my spare time, I love spending time with my family, trying out new recipes, and running in all seasons. I hope to complete my second marathon sometime in the near future. 
What is the FLEX program? 
FLEX courses at CCV are faculty-led courses with flexible assignment submission, allowing students to manage their completion pace during the semester. Courses also remain open for enrollment throughout the first half of the semester. In addition to earning college credit, students completing FLEX courses earn digital credentials (also known as badges) which provide valuable information about the student's knowledge and competencies to employers. Our digital credential programs are embedded into our certificate and degree programs, so as students earn these credentials, they also earn credit that can be applied towards these pathways. 
What are your goals as the Coordinator of FLEX Programming? 
As the Coordinator of FLEX Programming, my goal is to increase awareness about the value of FLEX courses and digital credentials both with students and Vermont employers. I also hope to develop partnerships with Vermont employers to better understand their workforce needs, and work together to develop additional courses and credentials that respond to these needs. 
Who benefits from FLEX? 
Both students and employers benefit from our FLEX program. FLEX courses are perfect for students who have a busy schedule and require a course format that can adjust to their other commitments. The digital credentials earned through these courses can be shared on a variety of digital platforms (LinkedIn, Twitter, Facebook, digital resumes, websites) to showcase student achievements. For employers, they act as a communication tool that provides visibility and clarity about the skills and competencies that a student has learned, extending well beyond a series of bullet points on a resume. 
 
What is the best part of your job? 
One of the reasons that I was drawn back to Vermont was because of the people, and this job reinforces that every single day. I work with people and organizations all around the state who are committed to helping Vermonters and our local communities and it is incredibly rewarding to be a part of that process.