Event
40th Annual NSB Footrace
Date: 9/1/18
Time: 9:30am
Location:
Northfield, VT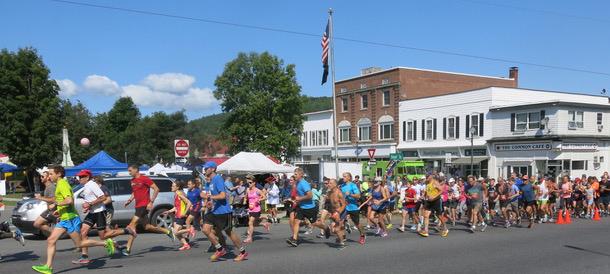 Northfield Savings Bank is pleased to announce the beneficiary of the 40th Annual NSB Footrace will be the Vermont Foodbank. The Footrace takes place on Saturday, September 1 in downtown Northfield. The Bank will make a donation of $5 per runner, up to a maximum of $3,000. 
Several hundred runners are expected to participate in the event, which kicks off Northfield's Labor Day weekend festivities. The 5K adult race begins at 9:30 a.m., and the 1-mile kid's race for children ages 5-13 follows at 10:30 a.m. Runners can pre-register online by visiting www.racemenu.com/NSBFootrace. 
Once again, NSB is pleased to welcome the participation of the Vermont Senior Games Association. VSGA will be awarding gold, silver and bronze medals to men and women over 50 in five-year age groups. Race participants will also be eligible to qualify for the 2019 National Senior Games in Albuquerque, New Mexico.
People interested in volunteering are encouraged to contact Kathryn Goulding of NSB at 802-661-5266, or by email at kathryn.goulding@nsbvt.com.
The Vermont Foodbank is the state's largest hunger-relief organization, providing nutritious food and promoting health through a network of 215 food shelves, meal sites, senior centers and after-school programs, and directly to families, children, older adults and individuals at schools and hospitals throughout the state.