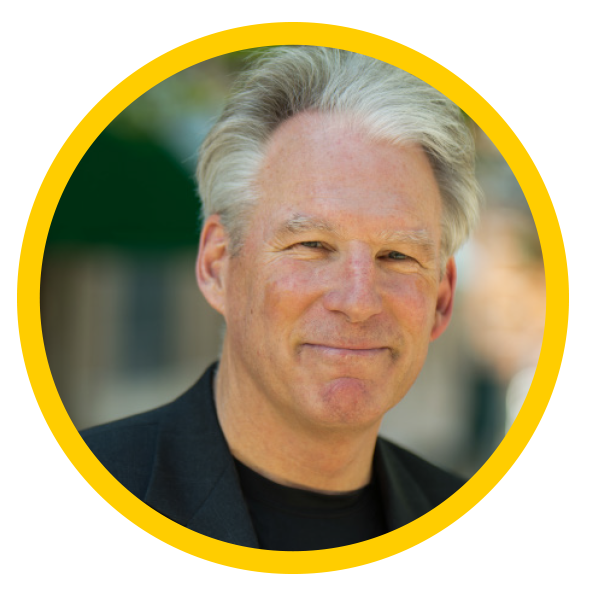 March 2023
Dear Friends,
In 2022, we achieved solid operating results while continuing to meet our many commitments as a mutual institution. This was the first full year since 2019 that was not defined by pandemic effects, though some remained. Rising inflation and interest rates, partly attributable to government relief efforts, created new challenges. Overall, our team performed well executing our strategic initiatives, meeting a standard of care for our customers and communities that earned us "Best Bank Statewide" in the annual Vermont Business Magazine "Best of Business" readership survey.

2022 Financial Summary
The company finished the year at $1.414 billion in assets, a modest rise over prior year. Growth would have been more robust without the impact of reduced market valuation of the Bank's investment portfolio as interest rates continued an upward track. Net loans grew 6.1% to $963.2 million. Deposits and other local funding grew 2.3% to $1.276 billion. Earnings again exceeded budget for the year, coming in just above $10.0 million. With the current market value of the investment portfolio taken into account, equity capital declined $26.0 million year-over-year to $114.0 million. Our ability and intent to hold these high-grade investments to maturity means our regulatory capital remained unaffected, rising to $151.4 million and keeping our capital ratios strong.
Enterprise24
Our 2021 report featured the foundation of our current Enterprise24 strategic plan, including NSB Core Principles, Vision, Value Proposition, and Strategic Themes. We made progress with all six of the themes in 2022. In Enterprise Market Development, we attracted and onboarded new relationships with active outreach by all business lines and our leadership team. We broke down our Builders, Makers, Doers® commitment featuring each element of our value proposition in successive communications to Vermont enterprises that are continuing into 2023. In Enterprise Efficiency & Productivity, we continued to build upon the successful core processing system conversion of 2021 with new tools to fully leverage our operating environment. In Enterprise Human Resources & Equity Framework, we made additional investments in our organization while also supporting community partners doing critical work lifting their served populations. In Enterprise Risk Management, we formalized a new Enterprise Risk Management (ERM) Framework and put in place vital components that included a reinforced business continuity management program. In Enterprise Information Technology, we advanced customer access, network capacity, information security, and the company's ongoing migration to cloud computing solutions. In Enterprise Mission, we sustained our financial support of programs to make credit more accessible for historically underserved local communities in partnership with Opportunities Credit Union.
Anchoring Vermont Downtowns
As part of a multi-year series of capital projects over successive strategic plans, we have been further securing our vital places at the heart of our served communities. From Bethel to Randolph to Northfield to Barre to Berlin to Montpelier to Waitsfield to Waterbury to Richmond to Williston to Essex Junction to South Burlington to Burlington, we have significantly upgraded our physical presence. During 2022 and into 2023, we have been making a new round of investments in Richmond and on Burlington's Church Street Marketplace. These new banking centers will offer a full range of NSB services in bright facilities that will bring economic and social vitality. As we have continued to deliver a robust set of digital tools to our customers where they work, live, and strive, we have never forgotten how important a sense of rootedness can be to one's financial security. That combination is one our mutual charter, now 156 years strong, celebrates while making us the largest bank headquartered in the Green Mountain State.
Conclusion
Bringing a substantive 21st century banking capability to market day-in and day-out requires an enterprise of many moving parts to run well all the time. Buildings, systems, products, services, and programs are some of the essential pieces. At Northfield Savings Bank we are fortunate to have strength in the most indispensable factor of all—our people. Our mix of multi-decade veterans and emerging professionals of varying backgrounds gives NSB a dynamic that blends experience with a youthful outlook. We are constantly educating each other as we share our gifts with our customers and communities. It makes for a stimulating environment in which to grow and serve.
We come into our April 4 annual meeting having navigated the events that have unfolded in the wake of the Silicon Valley Bank and Signature Bank actions by regulators. We are a robust community bank that has always met its commitments and is well positioned to do so well into the future as generations place their trust in us. Our Board, our management team, and our staff are again rising to the moment.
On behalf of all of us here, I thank all of you with a stake in making NSB a truly distinctive Vermont institution.
Sincerely, 

Thomas S. Leavitt
President & CEO
2022 Financial Overview
Balance Sheet
As of December 31 (Dollars in thousands)
ASSETS
Cash and Cash Equivalents
Investment Securities
Federal Home Loan Bank Stock
Residential Loans
Commercial Loans
Consumer Loans
Allowance for Loan Losses
Bank Premises and Equipment
Other Assets
Total Assets
$29,746
328,531
872
474,247
453,162
46,379
(10,544)
16,936
74,191
$1,413,520
LIABILITIES & CAPITAL
Deposits
Customer Repurchase Agreements
Federal Home Loan Bank Borrowings
Other Liabilities
Equity Capital
Total Liabilities & Capital
$1,185,444
90,270
3,821
19,998
113,987
$1,413,520
Statement of Earnings
For Year Ended December 31 (Dollars in thousands)
Interest on Loans
Interest on Investments
Total Interest Income
Interest on Deposits
Interest on Borrowings
Total Interest Expense
Net Interest Income
Provision for Loan Losses
Other Operating Income
Security Gains
Operating Expenses
Earnings before Income Taxes
Income Taxes
Net Income
Committed to Community
As part of Northfield Savings Bank's continued commitment to the communities we serve, in 2022, the NSB Foundation announced five community partnerships and financial support of $445,000 to be utilized over the next two years. The Boys & Girls Club of Burlington, Lund Family Center, Mercy Connections, Spectrum Youth & Family Services, and the Center for Financial Literacy at Champlain College each received a contribution to meet the growing needs of our community.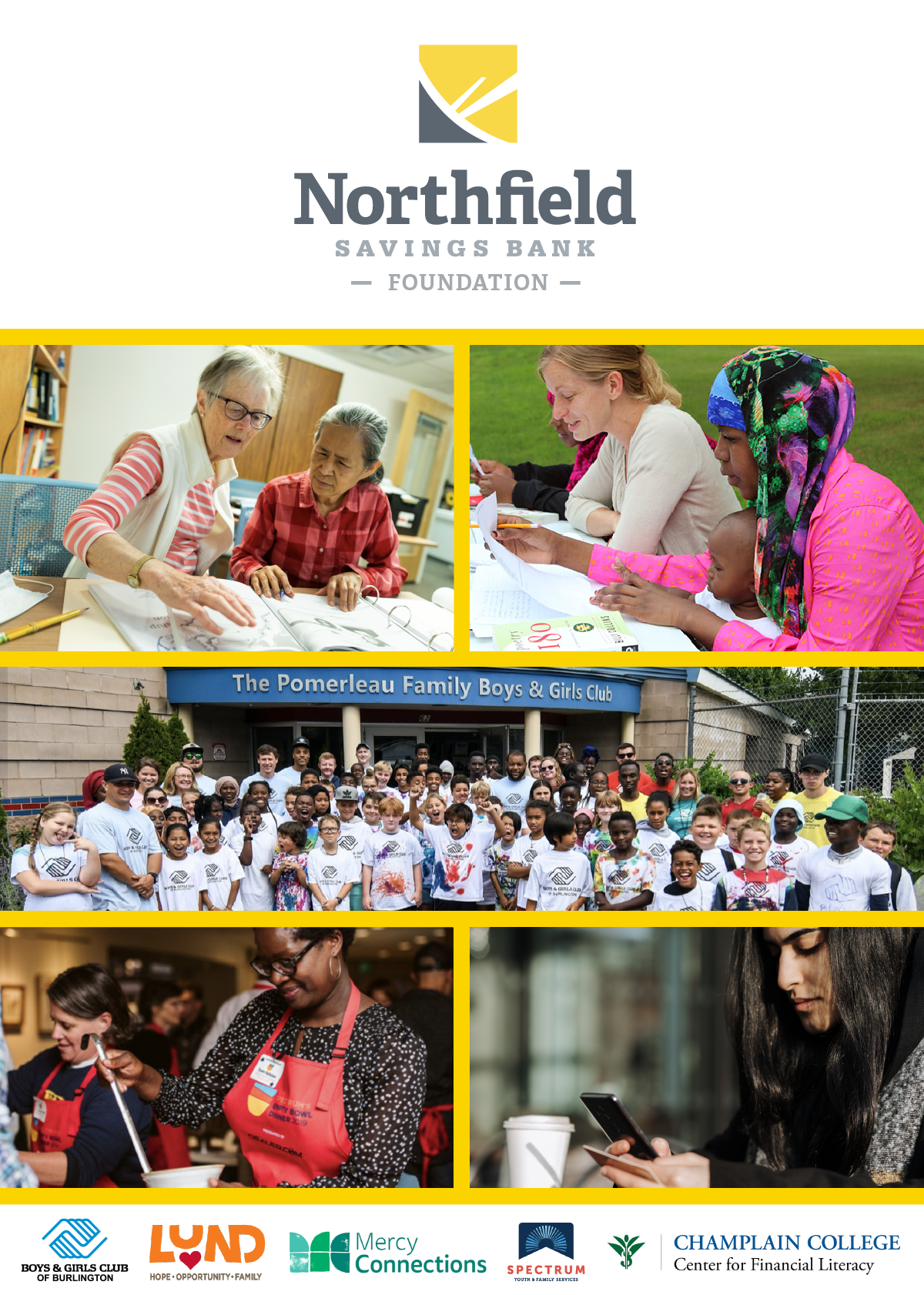 "The NSB Foundation is excited to launch these partnerships and support the ongoing work of the five organizations. Individually, each is an important resource for our friends and neighbors; collectively, they form an important ecosystem for Vermonters moving through their personal and professional journey."
— Nicole Carignan, NSB Foundation Board Chair
Dedicated to making a difference, together
Throughout our 156-year history, we have encouraged a culture of community involvement by supporting our employees' volunteer efforts. In 2022, Northfield Savings Bank employees volunteered over 2,500 hours in the community.
Among the many Vermont organizations our employees choose to donate their time is Camp Ta-Kum-Ta located in South Hero, Vermont. Camp Ta-Kum-Ta provides extraordinary experiences for children who have or have had cancer and their families, at no cost to their families and is a non-profit organization with limited resources. Consequently, they rely upon volunteers such as ours to help maintain their facilities so they can focus their energy on the campers. NSB has been volunteering at Camp Ta-Kum-Ta for over 10 years and we always have an eager group of about 15-20 employees who can't wait to sign up for the volunteer day. The work completed often ranges from general maintenance of the grounds to moving furniture to painting cabins and so much more.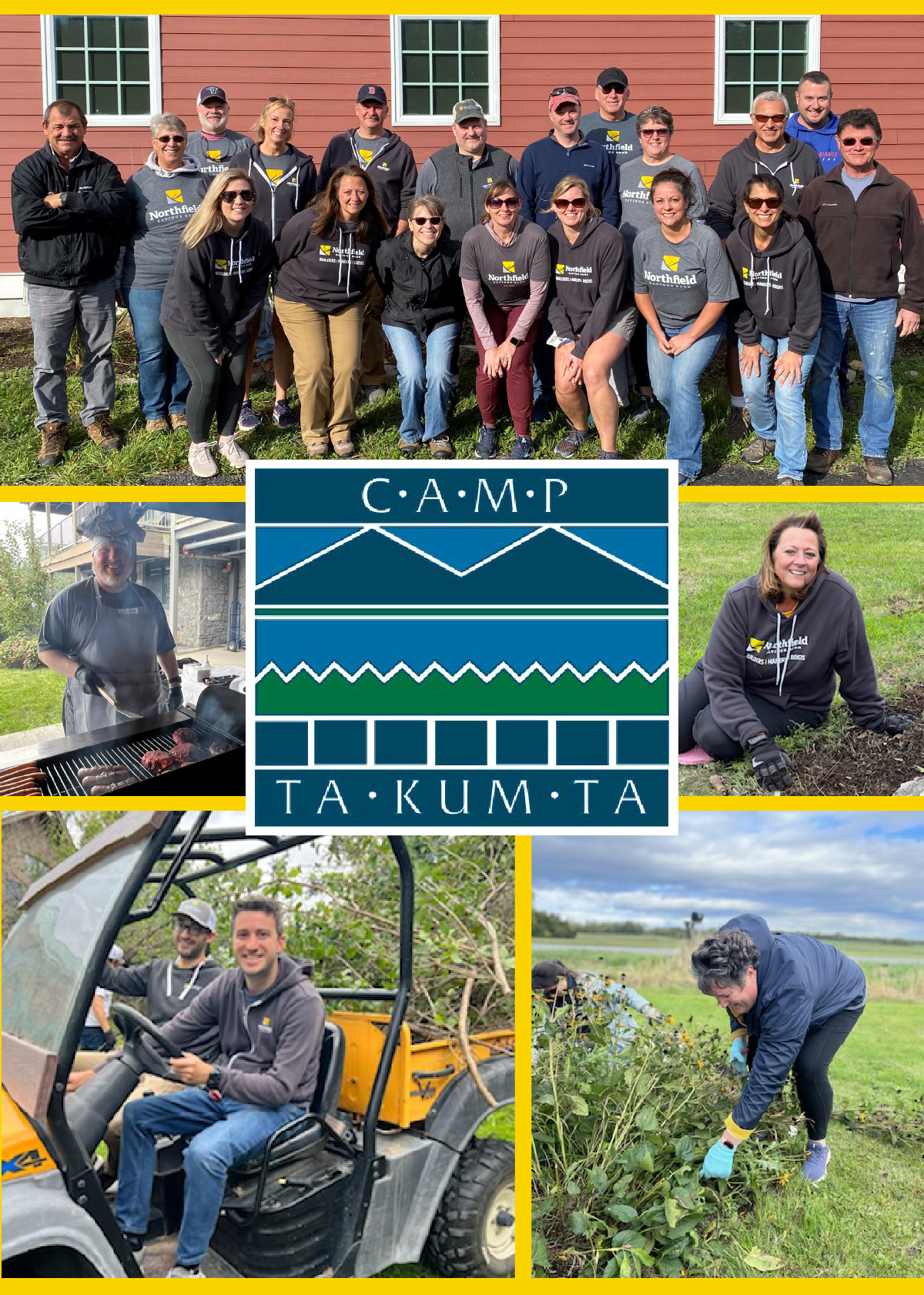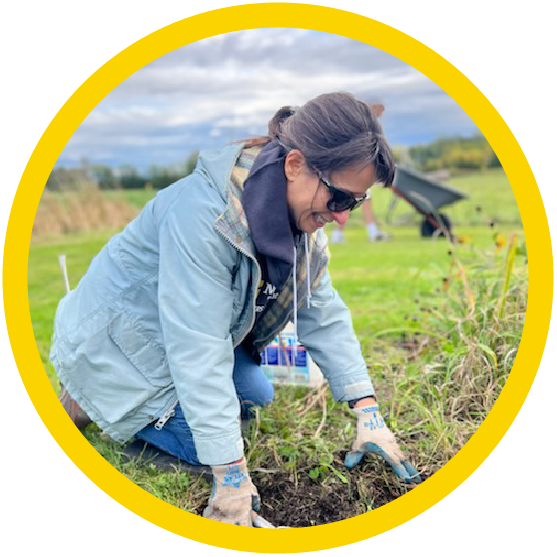 "The work we do is completed rain or shine and no matter what the weather, we volunteers benefit just as much as the campers. I can confidently say at the end of each work day, every member of our team is smiling and saying 'I can't wait to do this next year'."
— Rosemarie White, Senior VP Commercial Banking
Support, where it matters
In 2022, Northfield Savings Bank was proud to continue supporting several initiatives at Opportunities Credit Union (OCU) in Burlington. Serving individuals across the state, OCU offers affordable deposit and credit products to consumers and businesses who are underserved by the traditional banking system.
Throughout the year, OCU was able to leverage NSB's support to fund $370,470 Drive Down Loans for 14 borrowers. Overall, 81% of OCU consumer loans were for low-income Vermonters and 43% for credit-challenged borrowers. NSB's Drive Down grant was responsible for over 3.5% of OCU's total consumer loans, which according to OCU President/CEO Kate Laud, "REALLY helped!"
OCU also used funding from NSB in 2022 to employ counselor Grace Ross, for their Money Sense program who counseled a total of 1,420 Vermonters, 96 through 1:1 counseling and 1,324 through group workshops. Grace is pictured below (left) with Money Sense Program Manager Katy Bensen (right), in front of OCU's Black Lives Matter mural.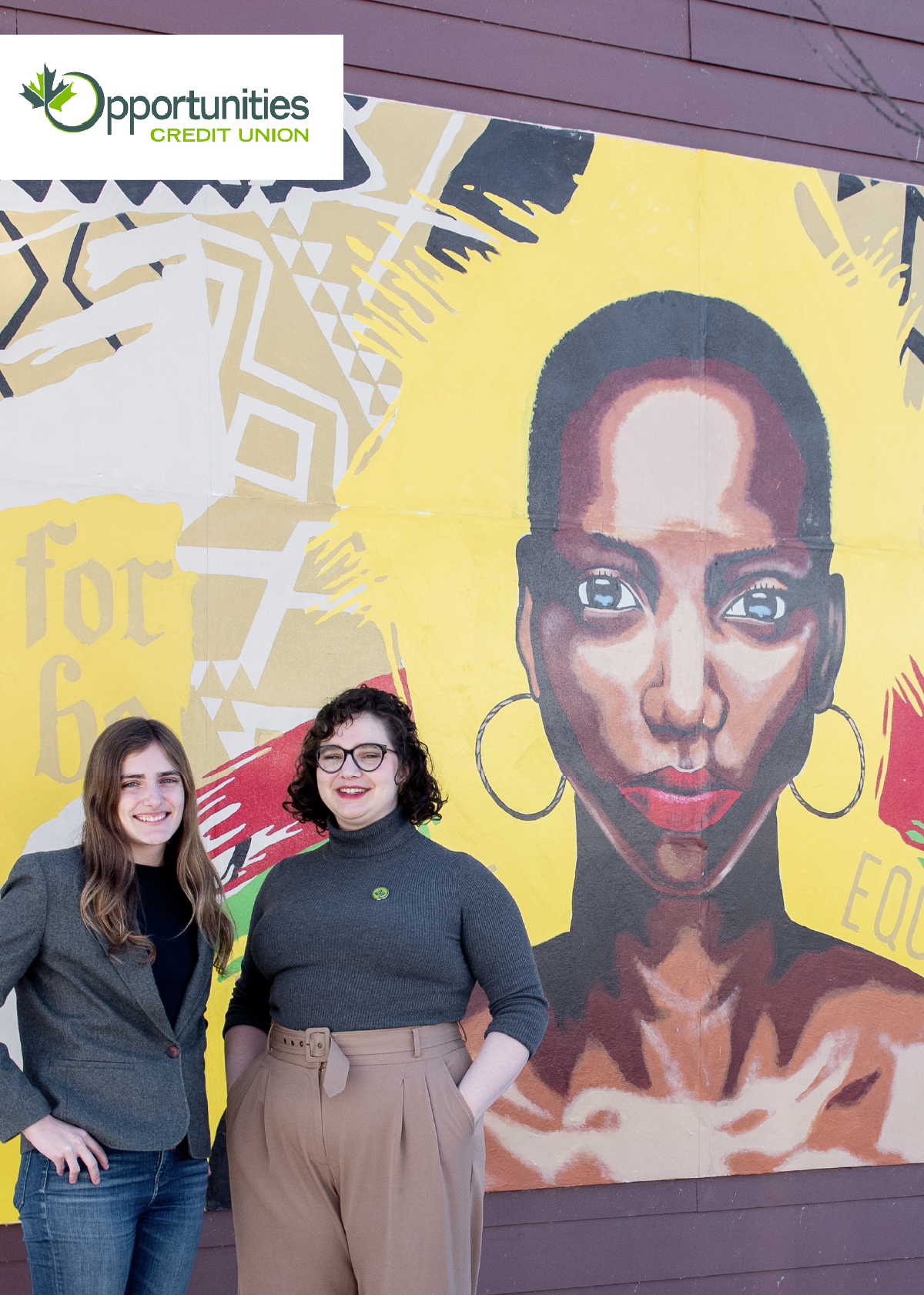 "The Drive Down product allows us to help the borrower who really needs a Fresh Start. It helps people with the lowest credit ratings. The magic comes when that borrower shows up with high levels of collection balances. We can lend them more than the value of the used vehicle and then can use the extra to pay off high credit card balances. It's nice to be able to offer someone a fresh start! We've had great success with these borrowers paying on time, too!"
— Kate Laud, President/CEO, Opportunities Credit Union
NSB's support of OCU will continue as we expand the partnership to have a similar impact on businesses by making the cost of credit more affordable for micro-business loans.
A legacy of giving back
As a mutual institution, we are committed to our customers and the communities where we live and work. Our major donations to local non-profits exemplify this commitment in action, supporting the Vermont communities we serve, year after year. In 2022, Northfield Savings Bank contributed $500,000 to more than 100 community organizations in Vermont.

Age Well
Aldrich Public Library
Alzheimer's Association of Vermont
American Cancer Society
American Heart Association
A New Place
Barre Elks Lodge
Barre Opera House
Barre Rotary Foundation
Bethel Food Shelf
Big Heavy World
Boy Scout Troop 894
Boys & Girls Club of Burlington
Burlington Dismas House
BYSA Hockey Scholarship Fund
Camp Ta-Kum-Ta
Cancer Patient Support Program
Capital City Band
Capital City Concerts
Central VT Career Center
Central VT Council on Aging
Central VT Humane Society
Central VT Adult Basic Education
Central VT Home Health & Hospice
Charlotte Public Library
Circle VT
Cochran's Ski Area
Committee on Temporary Shelter (COTS)
Community Energy Relief Volunteers
Community Harvest of Central VT
Country Club of Barre
Downstreet Housing and Community Development
Dragonheart Vermont
Dream Program
Echo-Leahy Center for Lake Champlain
Elley Long Music Center
Family Center of Washington County
Far Post Soccer Club
Farr's Hill Inc
Fletcher Free Library
Freezing Fun for Families
Gifford Last Mile Ride
Gifford Medical Center
Good Beginnings of Central Vermont
Good Samaritan Haven
Governor's Institute of Vermont
Greater Burlington YMCA
Green Mountain Book Festival
Green Mountain Pug Rescue
Habitat for Humanity
HomeShare Vermont
Hope Works
Humane Society of Chittenden County

Hunger Mountain Co-op
Inclusive Arts Vermont
Joint Urban Ministry Program
Jumpstart Coalition for Personal Financial Literacy
Just Basics Inc
Kellogg-Hubbard Library
Kelly Brush Foundation
Kid Safe Vermont
King Street Center, Inc
Kingdom County Productions
Lake Champlain Chamber
Lake Champlain Community Sailing Center
Lake Champlain Opportunity Fund
Lewis Creek Association
Living Tree Alliance
Local Motion
Mad River Ridge Runners
Mad River Valley Chamber of Commerce
Mad River Valley Senior Citizens, Inc
Make-A-Wish Foundation of Vermont
Meals on Wheels, Central Vermont
Mentor Vermont
Mercy Connections
Montpelier Alive
Montpelier/Roxbury Public Schools
Northfield Country Club
Northfield Observances Inc
Norwich University
Opportunities Credit Union
Our Community Cares Camp
Outright Vermont
Pan Mass Challenge Cancer Ride
Pittsfield Fire Department
Potter's Angels Rescue
Prevent Child Abuse Vermont
Rebuild Together Greater Burlington
Renewable Energy Vermont
Renita Marshall Helping Hands Foundation, Inc
Richmond Farmer's Market
Richmond Land Trust Inc
Ronald McDonald House
Sail Beyond Cancer Vermont
Shelburne Little League
Shidaa Projects Inc
Silver Towers Camp
South Burlington Rotary Club
Special Olympics Vermont
Spectrum Youth and Family Services
Spring Hill School
Stern Center for Language
Studio Place Arts
Technology for Tomorrow
The Schoolhouse
The University of Vermont Cancer Center
University of Vermont Children's Hospital
University of Vermont Foundation
University of Vermont Lane Series
University of Vermont Medical Center
University of Vermont Health Network Home, Health & Hospice
Vermont Basketball Coaches Association
Vermont be True
Vermont Chamber of Commerce
Vermont Children's Trust Foundation
Vermont Coalition to End Homelessness
Vermont Council on Rural Development
Vermont Foodbank
Vermont Historical Society
Vermont International Film Festival
Vermont Leagues of Cities and Towns
Vermont Mountain Bike Association
Vermont Mountaineers
Vermont National Guard
Vermont Philharmonic
Vermont Public
Vermont Stage Company
Vermont Women's Fund
Vermont Works for Women
Waitsfield Farmer's Market
Washington County Mental Health
Waterbury Ambulance Service
Leadership
Northfield Mutual Holding Company
Directors
John T. Burke
Nicole M. Carignan
Kyle Dodson
Brian Eagan
Jon Jamieson
Thomas S. Leavitt
John Lyon - Vice Chair
Mary Alice McKenzie - Chair
Thomas Robbins
Mark Saba
Kerin Stackpole
Officers
Thomas S. Leavitt
President
Cory B. Richardson
Treasurer
Amy Turosak
Corporate Secretary
Corporators
Indra J. Acharya
Belan Antensaye
Perry Armstrong
Kim Bolduc
John T. Burke
Brian Button (Emeritus)
Lilli Cain
Nicole M. Carignan
H. Wright Caswell
Stephanie T. Clarke
Edward Corrigan
Jon P. Cunningham
Richard Darby
Sarah DeFelice
Michael C. Diender
Kyle Dodson
Dr. Nadia A. DuBose
Brian Eagan
Ted Elzey
Jennifer Emens-Butler
Dolly Fleming
Yael Friedman
Karen Gillespie Korrow
John Grenier
John J. Handy
Jeffrey Harkness
Brian Harwood
Wanda Heading-Grant
Robert J. Holden
Jon Jamieson
Scott Johnstone
Fletcher Brian Joslin
Lisa L. Keysar
Travis J. Kingsbury
Susan M. Klein
Robert Korrow
Jeff LaBonte
Michael Lajeunesse
Jeffrey Larkin
Sean Lawson
Thomas S. Leavitt
Kevin Lord
Steven Loyer
John Lyon
Owiso Makuku
Mary Alice McKenzie
Walter Milliken
Sue Minter
Eva M. Morse
Allyson Myers
Bob Nelson
Robin C. Nicholson
Jeffrey Nick
Chris Noyes
W. Dan Noyes
Adam Osha
Nancy Owens
Marissa Parisi
Keith Paxman
Deborah A. Phillips
Roberto J. Pierre
Dave Pocius
Nancy Pope
Kesha Ram Hinsdale
Sarah Richards
Thomas Robbins
Sandy Rousse
Mark Saba
Leslie Sanborn
Liz Schlegel
RADM Rich Schneider USCGR (Ret)
Matt Schrag
Steven Shea
Heather F. Shouldice
Kerin Stackpole
Frances Stoddard
Philip Susmann
B. Thomas Sweet
Wallace W. Tapia
David J. Whaley
James H. Wick
Lauren D. Wobby
Karen Galfetti Zecchinelli
Nancy F. Zorn
Northfield Savings Bank
Officers
Charles H. Abare
Consumer Credit Processing Manager
Samantha E. Abare
Mortgage Banking Officer
Madeline K. Andrews
Senior Community Banking Officer
Ian T. Arnold
VP Consumer Credit
Donna A. Austin-Hawley
EVP & Chief Human Resources Officer
Chad A. Bell
VP Investment Consultant Manager
Clay E. Bell
VP Investment Consultant
Daniel K. Boylan
Risk Management Officer
Lori A. Bussiere
Deposit Operations Manager
Alyson K. Campbell
Marketing & Communications Manager
Timothy K. Carpenter
VP Commercial Banking
Megan L. Cicio
SVP Enterprise Banking
James V. Dattilio
Community Banking Officer
Tracy L. Davis
Senior Community Banking Officer
Bradford S. Doane
VP Project Manager
Sherry L. Doane
VP Operations
Douglas P. Emery
Community Banking Officer
Alfred J. Flory
EVP & Chief Lending Officer
David A. George
IT Core Operations Manager
Donna M. Gerdes
Collections Manager
Eric A. Gerdes
Community Banking Officer
Mary E. Gleason
Senior Community Banking Officer
Chad T. Hutchins
VP Commercial Banking
Christopher Jarvis
VP Commercial Banking
Timothy P. Kane
VP Compliance Officer
Wendy C. Kellett
Senior Community Banking Officer
Kerry K. Keown
Community Banking Officer
Debra L. Kerin
VP Community Banking
Kathleen M. LaCross
VP Enterprise Banking Officer
Cheryl A. LaFrance
EVP & Chief Operating Officer
Maryellen LaPerle
VP Mortgage Banking
Krystal L. LaRose
Mortgage Banking Officer
Thomas S. Leavitt
President & CEO
Stephanie E. MacAskill
VP Direct Banking & Deposit Operations
Christine E. Martin
Bank Secrecy Act Officer
Mark Mast
VP Commercial Banking
Anthony J. Matz
Senior Community Banking Officer
Del'Rae LM. Merrill
Community Banking Officer
Richard B. Nelson
SVP Information Security
Melissa A. Neun
SVP Risk Management
Kristin L. O'Connor
VP Human Resources
Robert F. O'Neill
Security Officer
Lauren N. Paige
Community Banking Officer
Jason J. Pidgeon
VP Mortgage Banking & Consumer Credit
Roger P. Pinan
Mortgage Banking Officer
Wright C. Preston
SVP Commercial Banking
John P. Ravaschiere
VP Commercial Banking
Wendy S. Rea
Senior Process Improvement Analyst
Darlene A. Remlin
Community Banking Officer
Cory B. Richardson
EVP & Chief Financial Officer & Chief Credit Officer
Gina R. Sargent
Consumer Credit Manager
Timothy D. Sargent
SVP Information Technology
David W. Seaver
VP Commercial Banking
Kellie J. Stefaniak
Loan Operations Manager
J. Billy St. Louis
Enterprise Banking Officer
Edward T. Sulva
VP Controller
Julie L. Therrien
Financial Operations Officer
Amy M. Turosak
Corporate Secretary
Michael R. Tuttle
Senior Policy Officer
Ellen M. Weigel
Community Banking Officer
Robert B. Wheeler
VP Commercial Credit
Ava I. Whitcomb
Mortgage Banking Officer
Rosemarie A. White
SVP Commercial Banking
Marsha D. Wimble
VP Enterprise Banking Officer