NSB Takes the Plunge for Special Olympics
Date: 2/4/17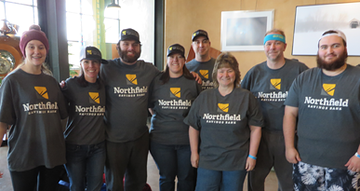 On February 4, Northfield Savings Bank took to the winter waters of Lake Champlain for the annual Penguin Plunge, the largest annual fundraising effort for Special Olympics Vermont. In addition to sponsoring a small team of "plungers" who braved the frigid, 32-degree water, the bank provided almost 30 volunteers who managed the event's registration area by helping people check-in, directing them to their respective "wave" or "flock", collecting donated funds, and handing out thank-you goodie bags.
This year's plunge raised $528,000, topping last year's record of $480,000. "It's just remarkable that we continue to raise as much money as we do," said Lisa DeNatale, president and CEO of Special Olympics Vermont, noting that the Penguin Plunge funds 30 to 40 percent of her organization's operating budget. "It's significant and the success of this event really helps us expand and offer more and more programming to athletes across the state."
Northfield Savings Bank sponsored its first Penguin Plunge jumper in 2006. The bank became an official sponsor in 2010 and then officially took over the volunteer registration function in 2011.