NSB Supports New Life at French Block Apartments
Date: 1/15/19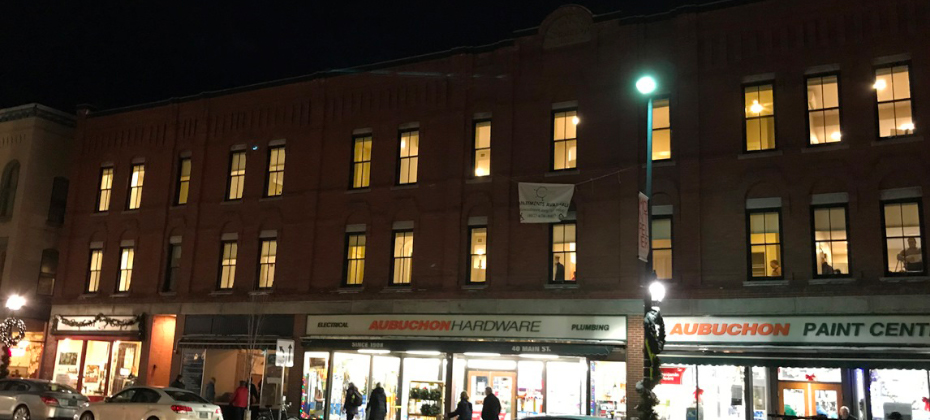 Downstreet Housing & Community Development and Housing Vermont hosted a ribbon cutting January 3rd to celebrate the French Block Apartments coming soon in downtown Montpelier.
For the first time in over 75 years, the second and third floors of the historic building will be occupied by residents. The redevelopment plan includes creating 18 one-bedroom apartments, with a mix of affordable and market-rate rents, said Alison Friedkin, Downstreet's Director of Real Estate Development.
Northfield Savings Bank (NSB) is proud to support this project that will bring new life to the Montpelier community. NSB purchased $275,000 of state tax credits that went directly into funding for the project. Thomas Leavitt, NSB President & CEO, Al Flory, NSB Chief Lending Officer, Cheryl LaFrance, NSB Chief Operations Officer, Wendy Kellett, NSB Montpelier Senior Community Banking Officer, and Maryellen LaPerle, NSB Vice President of Mortgage Banking, joined the many partners involved in the project for the ribbon cutting and celebration.
****
Northfield Savings Bank donates 10 percent of its annual earnings to Vermont non-profits as part of its long-standing commitment to give back to the communities it serves. For more information about NSB's Community Giving, click here.
Downstreet Housing strengthens the communities of Central Vermont by engaging with people, providing affordable homes and connecting people to the resources and services they need to thrive. Some of their offerings include home-buyer education workshops, down payment and closing cost assistance, home repair loans, and financially accessible rental housing for low-and-moderate income residents. For more information about Downstreet Housing and Community Development, visit their website.
Housing Vermont, a non-profit syndication and development company founded in 1988, creates permanently affordable rental housing and enables investments in economic and community development to benefit Vermonters through partnerships with local organizations, public agencies and the private sector. For more information about Housing Vermont, visit their website.