NSB supports new housing
Date: 7/21/17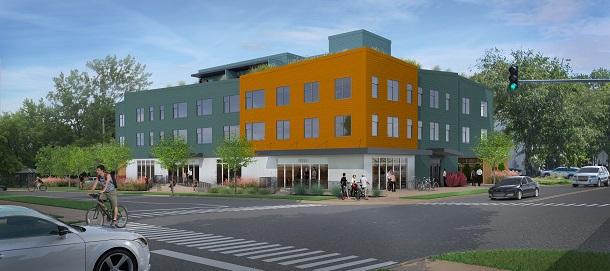 Burlington-based development company, Redstone, celebrated the ground breaking of a new project located at 316 Flynn Avenue in Burlington on Thursday, July 13. The new mixed-use building will include 30 apartments and 3,000 square feet of commercial space. The redevelopment of the former Pine Street Deli property will revitalize the site at the gateway to the South End with modern apartments and neighborhood-scale sized commercial space. Under Burlington zoning rules, 15 percent of the units will be reserved as affordable housing, benefiting households earning 65 percent of area median income.
Funding for the project is being provided by Northfield Savings Bank, Vermont Community Loan Fund, Vermont Agency of Commerce and Community Development, Vermont Economic Development Authority and the Environmental Protection Agency.
"Northfield Savings Bank is pleased to be providing the bank financing for this important project in Burlington's South End," said Thomas Leavitt, President & CEO of NSB. "Redstone is a quality developer that is adding to the vitality of this growing neighborhood, one that NSB has a long-term commitment to serving. Joel Dube and Chad Hutchins have done a fine job representing NSB in this exciting partnership."
Mayor Miro Weinberger addressed the crowd at the event, saying "the groundbreaking of 316 Flynn Avenue represents another positive step forward in dealing with one of the largest social issues in Burlington, the lack of housing."
The location of the project is close to the bike path, bus line and area employers. A planned extension of the Champlain Parkway, linking Interstate 89 to downtown Burlington, is expected to get underway in 2018 and should help with traffic congestion in this busy area.