NSB Supports City Hotel Cafe - Meals on Wheels Program
Date: 8/20/19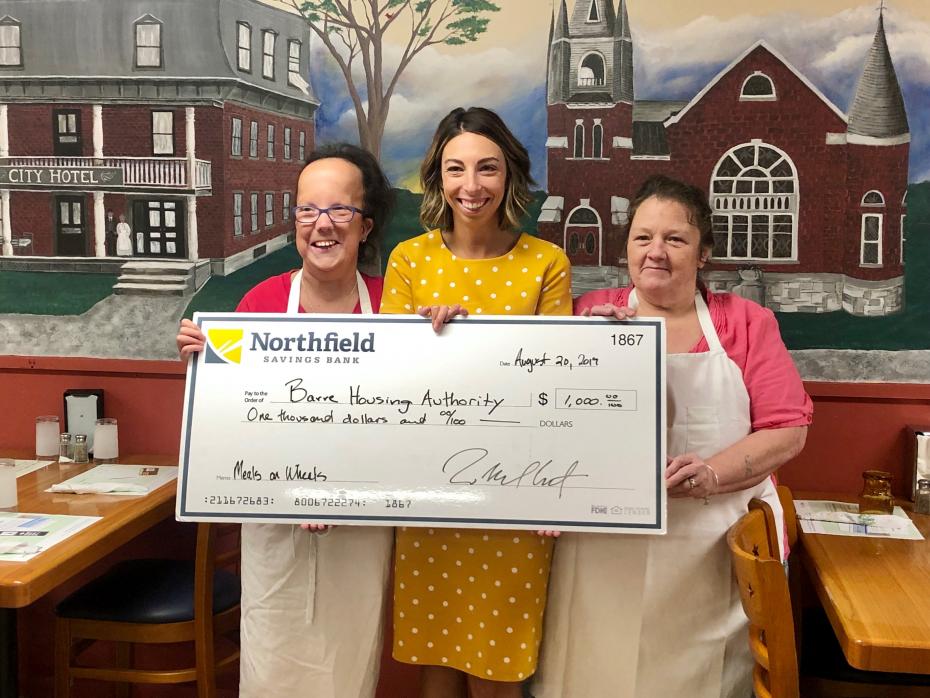 Northfield Savings Bank (NSB) is pleased to support the Barre Housing Authority's City Hotel Café Meals on Wheels Program with a recent $1,000 donation.
The funds will help the City Hotel Café fulfill its mission of providing nutritious, served and home delivered meals to seniors and younger adults with disabilities to help them remain independent and with dignity at home. This donation will help with the shortfall in funding for the costs of meals which will ensure that 250 meals will be served and/or delivered to people in need in our Washington County community who cannot afford to pay the full $4 per meal requested. City Hotel Café is managed by the non-profit entity Barre Housing Services and is affiliated with the Barre Housing Authority. Last year alone, 70% of the Meals on Wheels Program recipients lived in poverty, with two thirds of them living alone. Without the support of this program, many of these people would be hungry and forced into institutional settings.
****
Northfield Savings Bank proudly donates 10 percent of its annual earnings to Vermont non-profits as part of a long-standing commitment to give back to the communities it serves.
For more information about NSB's Community Giving, visit our Community Giving page.
For more information about City Hotel Café, please visit cityhotelcafe.org.
Pictured from left: Maisie Lajeunesse, City Hotel Cafe; Lindsey Lozier, Community Banker at Northfield Savings Bank; Vicky Clark, City Hotel Café