NSB Provides Support to Home Share Now
Date: 5/10/17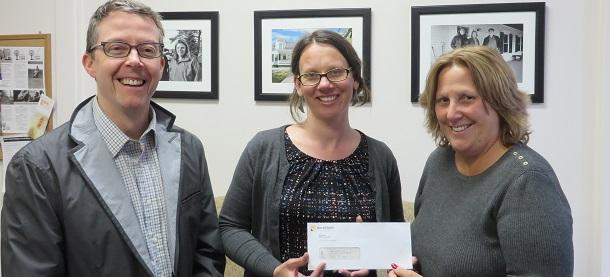 Christina Goodwin Executive Director of Home Share Now accepts a donation from Deb Kerin, Senior Community Banker at the Barre branch and Steve Page, Cash Management Specialist at NSB.  Steve is also on the Board of Directors at Home Share Now and is a former home sharer.
The mission of the organization is to match people with a room to share to those looking for affordable housing. This  leads to a mutually beneficial relationship where often times older adults with a spare room or two are matched with vetted home seekers.   In exchange for lower rents, services are provided by the renter.  These might include companionship, a protective presence, household assistance, transportation, help with meal and even maybe a bit of snow shoveling.  Last year over 120 people were served by this program.
NSB has made a similar donation to Home Share Vermont, a program in the Burlington area.
This gift is part of our quarterly donation program.  This quarter NSB donated over $25,000 to local non-profit organizations.  Some of the programs who benefited from this round of donations included those who care for our elderly, teach basic education skills to adults, provide entertainment to communities, grant wishes to sick children, repair transportation vehicles, provide health care and scholarships for kids to learn about the arts.
For more information on NSB's community giving visit the About Us page.