NSB Partners with Tatum's Totes Holiday Drive
Date: 12/17/18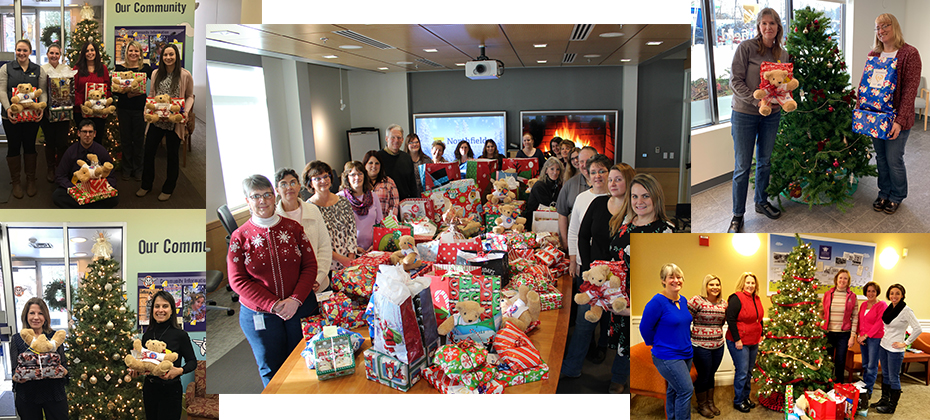 For the third consecutive year, Northfield Savings Bank (NSB) is proud to partner with Green Mountain United Way and Tatum's Totes to provide 50 children in foster care with holiday gifts through the Tatum's Totes Holiday Drive.
Participating employees at NSB received a child's age, gender, and clothing size to help gather appropriate gifts, as well as a Vermont Teddy Bear donated by Vermont Teddy Bear Company to include with each child's gift. Departments at the bank then held wrapping parties to prepare the gifts for distribution to foster children in our region through the Vermont Department for Children and Families.
Many children enter foster care with little to no belongings, and Tatum's Totes, in partnership with Green Mountain United Way, provides them with a backpack of comforting belongings to carry with them as they transition into foster care. The non-profits also coordinate the Tatum Totes Holiday Drive to provide foster children with comforting gifts around the holidays.
****
Northfield Savings Bank and its employees are committed to giving back to our communities. In 2017, NSB employees donated a collective 5,100 volunteer hours to local non-profits.
For more information about Green Mountain United Way and Tatum's Totes, visit Green Mountain United Way's website.