NSB helps underwrite Economic Outlook on the US Economy event.
Date: 5/10/17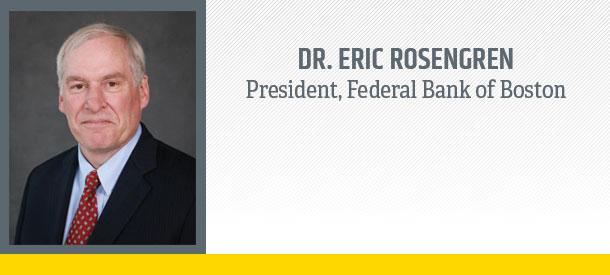 The President of the Federal Reserve Bank of Boston, Dr. Eric Rosengren will present an Economic Forecast to the Vermont business community on Wednesday, May 10, 2017. Dr. Rosengren will deliver his address at the Double Tree Inn, 1117 Williston Rd, South Burlington, VT. The event is being co-hosted by the Central Vermont Chamber of Commerce and the Lake Champlain Regional Chamber of Commerce. 
Dr. Eric Rosengren became the Boston Fed's 13th president and chief executive in July 2007 after holding senior positions in both the Bank's economic research and bank supervision functions. He joined the Boston Fed as an economist in the Research department in 1985. 
Dr. Rosengren graduated Colby College with a B.A. in economics and attended the University of Wisconsin, Madison where he earned an M.S. and Ph.D. in economics.
Sponsors of the event include Casella Waste Management, Dinse, Knapp & McAndrew. Downs Rachlin Martin, Northfield Savings Bank, Pomerleau Real Estate and Wells Fargo Advisors. 
Central Vermont Board Chair, Lindel James from the Center for Leadership Skills in announcing the program praised Dr. Rosengren. "The Federal Reserve Bank of Boston is a significant component of our nation's banking system. As the President of the Boston Fed, Dr. Rosengren plays a vital role in setting the course of America's economic future. We are honored to have him come to Vermont." 
Thomas Clavelle, Board Chair of the Lake Champlain Regional Chamber and Executive Vice President and CFO of Engleberth Construction welcomed Dr. Rosengren's visit to Vermont, "We are proud to host Dr. Rosengren. His leadership as President of the Federal Reserve Bank of Boston, particularly during the Great Recession and subsequent recovery helped to stabilize the region's and nation's economies."