NSB Donates $15,000 to Vermont Foodbank
Date: 6/10/20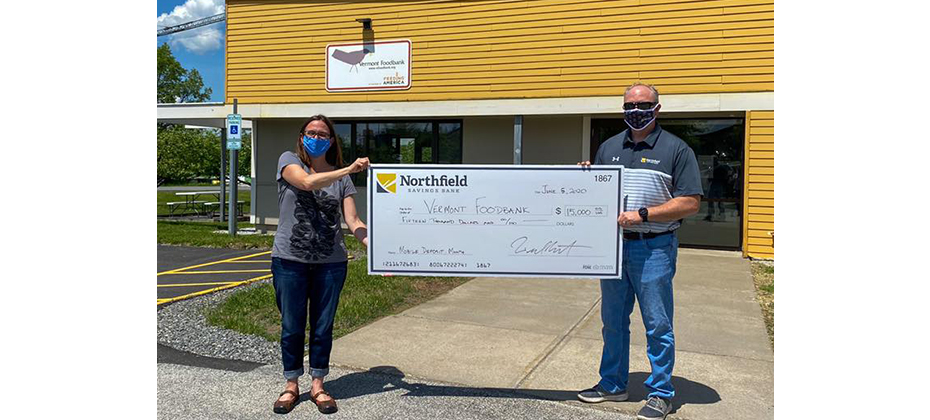 For Immediate Release: June 10, 2020
Contact: Kathryn Goulding, Northfield Savings Bank 
802-661-5266, Kathryn.Goulding@nsbvt.com
Central Vermont and Chittenden County – Northfield Savings Bank (NSB) is pleased to announce a $15,000 donation to the Vermont Foodbank as a result of NSB's "Make a Mobile Deposit, Make a Difference" campaign. For every mobile deposit made in the month of May, NSB donated $3.
The funds go to the Foodbank at a time of urgent need due to the COVID-19 pandemic. According to the most recent data from Feeding America, a nationwide hunger relief organization, the number of food insecure people in Vermont has increased by 46 percent. Local child food insecurity has increased by 60 percent. 
"This pandemic is creating a food assistance emergency unlike anything we've ever seen since we opened our doors more than 30 years ago", said Vermont Foodbank CEO John Sayles. "We've seen a huge increase in the number of people in need of food assistance, and it is clear that we can't meet this need on our own. But thanks to Northfield Savings Bank and their generous customers, we know we're not alone in meeting this increased demand. Their support fuels our work and our spirits!"
The $15,000 donation is equivalent to 25,050 meals. 
"Northfield Savings Bank chose the Vermont Foodbank as the recipient of these funds because of the critical work they do to help those most impacted by the COVID-19 pandemic," said Cheryl LaFrance, Senior Vice President and Chief Operating Officer at Northfield Savings Bank. "We are proud of our community giving throughout the year and feel especially fortunate to be able to help our neighbors during this stressful time."
About Northfield Savings Bank
Northfield Savings Bank was founded in Northfield, VT in 1867. Over more than 150 years, assets have grown to over $1 billion, and NSB is the largest independent bank headquartered in Vermont. NSB is a full-service bank offering a full range of community banking, commercial banking and mortgage banking services to consumer and commercial customers. Investment services are available through Northfield Investment Services*. Also known for its role as a corporate citizen, NSB proudly donates 10% of profits to Vermont community organizations. Donations exceeded $650,000 in 2019 to more than 200 community organizations. Northfield Savings Bank operates 13 branches throughout central Vermont and Chittenden County stretching from Bethel to Greater Burlington. Member FDIC. Equal Housing Lender. www.nsbvt.com
* Securities, advisory services and insurance products are offered by, and investment Consultants are registered with, INFINEX INVESTMENTS, INC., member FINRA/SIPC, and a Registered Investment Advisor.  Investment Consultants are employees of Northfield Savings Bank, a financial institution, and registered with INFINEX INVESTMENTS, INC., a registered broker dealer.  Northfield Investment Services is a trade name of Northfield Savings Bank.  Northfield Savings Bank is not a broker dealer. Infinex and Northfield Savings Bank are independent entities.
Investment products are: not a deposit, not FDIC insured, not insured by any federal government agency, not guaranteed by the bank, and may go down in value.