NSB Announces Organizational Changes in Central Vermont
Date: 8/13/18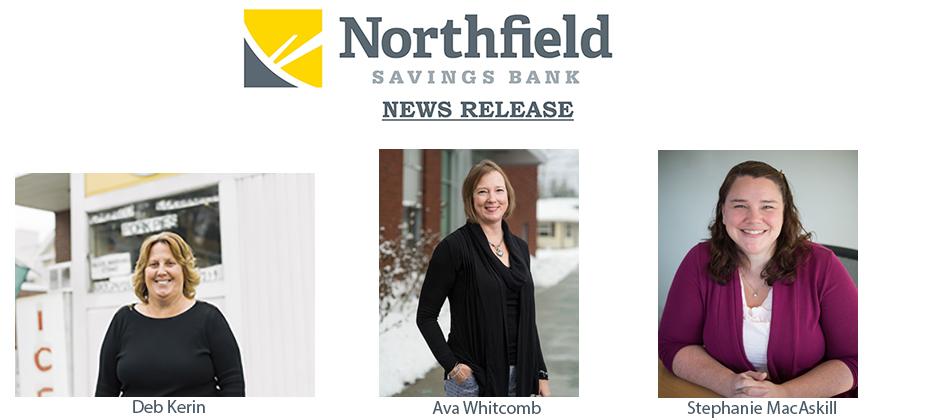 For Immediate Release: August 13, 2018
Contact: Kathryn Goulding, Northfield Savings Bank
802-661-5266, Kathryn.Goulding@nsbvt.com
Northfield Savings Bank Announces Organizational Changes in Central Vermont
Central Vermont - Northfield Savings Bank (NSB) is pleased to announce three organizational changes which serve to strengthen and expand our Electronic Banking, Community Banking and Mortgage Lending teams in Central Vermont.
Deb Kerin: VP - Community Banking
Deb Kerin, a 40-year veteran of NSB, has been appointed VP of Community Banking for Central Vermont. Kerin will draw on her four decades of market knowledge and NSB experience to oversee the branch network in Central Vermont while continuing to manage the Barre office, as she has done in recent years as Senior Community Banking Officer.
Kerin began her career on the frontline in Barre and has managed the Barre, Montpelier and Northfield offices during her tenure. A Barre native, Kerin currently serves on the Central Vermont Chamber of Commerce, the Washington County Diversion Board, and is involved with Barre are youth sports. She and her husband Phil reside in Barre town.
Ava Whitcomb: Mortgage Originator, Central Vermont
Ava Whitcomb recently transitioned to the role of Mortgage Originator, serving customers  in Central Vermont from NSB's Barre location. She joins a team of friendly and experienced Mortgage Lenders focused on providing efficient service through the journey from mortgage applicant to homeowner.
Whitcomb has been with NSB for 19 years, and begins her new position with a wealth of knowledge to help customers navigate the mortgage-lending process. Her past experience includes Head Teller, Customer Service Unit Manager, and most recently, ten years as NSB's Electronic Banking Manager, where she guided continuous growth and successfully navigated the placement of new features and functionality within NSB's Online Banking system.
Whitcomb is a graduate of the Northern New England School of Banking. She and her family live in Marshfield.
Stephanie MacAskill: Online Banking and Customer Support Services Manager
Stephanie MacAskill recently joined the NSB family as the Online Banking and Customer Support Services Manager. In her role, she works closely with her team to quickly and efficiently assist customers with their online banking needs, as well as anyone who contacts the Customer Call Center.
MacAskill's banking experience encompasses 24 years, including 19 in customer service, where she managed teams responsible for deposit operations and card support, as well as a customer call center and technical call center.
A native Vermonter, MacAskill holds her Bachelor of Science degree in Applied Mathematics from the Rochester Institute of Technology. She and her family reside in Waterbury.
"Deb, Ava and Stephanie provide NSB customers with 80-plus years of combined service and expertise, ensuring a consistently strong and welcoming experience," said Cheryl LaFrance, Senior Vice President and Chief Operating Officer. "We are proud of their individual accomplishments and congratulate them on their new roles."
About Northfield Savings Bank
Northfield Savings Bank was founded in Northfield, VT in 1867. Over 150 years, assets have grown to more than $950 million, and NSB is the largest independent bank headquartered in Vermont. NSB is a full-service bank offering a full range of community banking, commercial banking, mortgage banking, and investment services to more than 30,000 consumer and commercial customers. Also known for its role as a corporate citizen, NSB proudly donates 10 % of profits to Vermont community organizations. Donations exceeded $300,000 in 2017 to more than 200 community organizations. Northfield Savings Bank operates 13 branches throughout Central Vermont and Chittenden County stretching from Bethel to Greater Burlington. Member FDIC. Equal Housing Lender. www.nsbvt.com