Key Donations to help Implement New Financial Literacy Education
Date: 10/12/18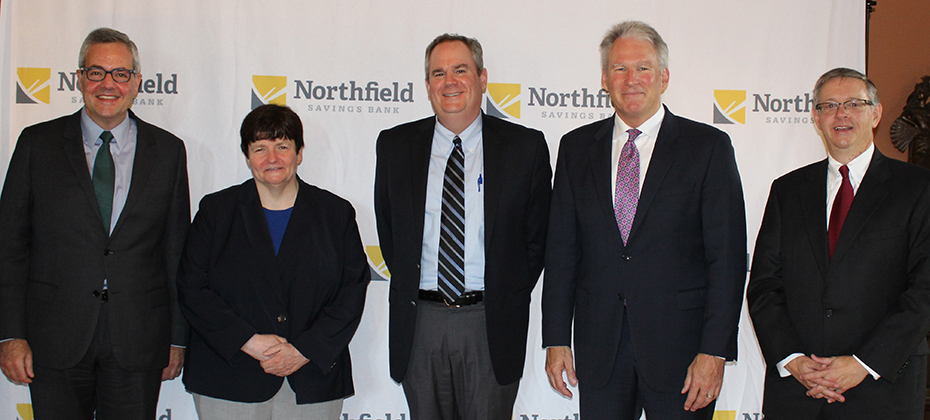 For Immediate Release: October 10, 2018
Contact: Stephanie Kloss, Director of Media, Champlain College
802-578-5413, skloss@champlain.edu
Key Donations to help Vermont Educators Implement
New Financial Literacy Education Standards
Grants from Northfield Savings Bank Foundation, National Life Group Foundation and Next Gen Personal Finance will allow Champlain College Center for Financial Literacy to provide Vermont Teachers with tools, resources and training to successfully integrate new personal finance education into their classrooms.
BURLINGTON, Vt—The Champlain College Center for Financial Literacy (Center) is receiving $200,000 over the course of two years from the Northfield Savings Bank Foundation (NSBF), the charitable arm of Northfield Savings Bank, to help Vermont educators implement new financial literacy education standards. Along with the grant from NSBF, the Center is also receiving $45,000 in funding from the National Life Group Foundation; and $16,000 from Next Gen Personal Finance.
In collaboration with the Vermont Agency of Education (AOE), the donations to the Center will help to materially improve the financial literacy of approximately 80,000 K-12 public education students by giving Vermont's roughly 8,000 educators access to the tools, resources and training they need to successfully integrate new personal finance education standards into their classrooms. The programming will increase the financial literacy instructional capabilities of Vermont educators and ultimately, through these teachers, bring personal finance knowledge, skills and behaviors to all of Vermont's K-12 students.
Since 2013, three Vermont task forces/commissions—Vermont Works for Women Enough Said Task Force; the Center's Financial Literacy Task Force; and the Vermont Financial Literacy Commission—have recommended that Vermont's 17-year-old personal finance standards be updated and enhanced to reflect robust national personal finance standards. On January 17, 2018, Vermont's State Board of Education replaced the state's modest personal finance standards with the more comprehensive Jump$tart Coalition's national K-12 standards.
"New personal finance education standards will be implemented by all Vermont public schools in the coming academic years. This vital development has created a unique opportunity to advance the financial capability of thousands of Vermont students by supporting the Center and its programming," said Thomas Leavitt, President of Northfield Savings Bank. "The NSB Foundation is pleased to undertake this partnership, which will provide Vermont's K-12 public school educators with access to the training and tools they need to successfully bring personal finance instruction into classrooms across the state."
"This grant is an excellent opportunity for Vermont educators as they work to improve student outcomes in this key academic and life skill," said Secretary of Education Daniel M. French. "Nothing better captures the intersection of personalized, proficiency-based learning like financial literacy. Financial literacy is a vital skill for young people to develop, bringing real-world learning into the classroom and applying classroom learning to the real world. Encouraging teachers to innovate in this field will pay long-term dividends and help us build a strong, 21st-century, cradle-to-career education system."
"Teachers are the leaders who provide our students with the skills they need to achieve a lifetime of opportunity and financial well-being," said State Treasurer Beth Pearce. "Financial education is a building block for the future. This educator-led collaborative effort will enhance opportunities for our teachers and students to develop an understanding of financial literacy concepts so more Vermonters reach their money goals. I want to thank Champlain College, Northfield Savings Bank, National Life Group, and Next Gen Personal Finance for convening the resources to launch this initiative."
John Pelletier, the Center's director, said it is critical that personal finance instruction be provided to Vermont's K-12 students. He noted that financial literacy is linked to positive outcomes like wealth accumulation, stock market participation, and effective retirement planning, as well as avoidance of high-cost alternative financial services like payday lending and auto title loans.
"At Champlain College, we view financial literacy as critical to enabling our students to achieve personal and professional success," said Donald J. Laackman, President of Champlain College. "Across the country, too many of our youth receive little, if any, personal finance training. Our new financial literacy standards, once implemented, can change this story for Vermonters and make Vermont an even better place to work and live."
Program Design
The Center will use the funding to create and provide the tools and training that Vermont educators need to successfully implement the new standards now applicable to Vermont students. The goal of the programming is to help educators connect personal finance to student-centered learning in an interdisciplinary manner. The Center will:
• Work with the AOE and K-12 educators to create sample financial literacy grade banded performance indicators and Proficiency Based Graduation Requirements (PBGRs) that can be implemented in an interdisciplinary manner.
• Partner with the AOE and middle and high school educators to create grade appropriate samples of how financial literacy can connect with personalization and flexible pathways. Each grade 7–12 student is required to have personalized learning plans (PLPs) in Vermont. Certain personal finance topics could be integrated into students' PLPs in middle and high school (e.g. career and college exploration, understanding the links between income and career, how student loans work, how to complete the Free Application for Federal Student Aid (FAFSA) form, etc.).
• Collaborate with the AOE and K-12 educators to identify recommended free, age-appropriate personal finance curriculum and tools for educators to use in their classrooms.
• Provide—with the assistance of the AOE and K-12 educators—six single-day educational interventions for elementary, middle and high school educators, with a goal of training as many as 650 educators in the state. This grant will provide elementary, middle and high school educator training on how to teach and assess personal finance topics in the classroom in a proficiency-based system.
"National Life has long supported the good work Champlain College does to help students reach their academic and life goals," said Beth Rusnock, President, National Life Group Foundation. "Helping teachers prepare Vermont's students to be financially literate is critical to helping them become truly independent."
"We know how important it is to have a confident and highly qualified teacher in EVERY classroom and are happy to support professional development to make that a reality. This is an investment that ensures that the new standards are successfully implemented," said Tim Ranzetta, co-founder of Next Gen Personal Finance.
Center's Nationally Recognized Teachers Financial Literacy Summer Institute
The Center's Teachers Financial Literacy Summer Institute, will be offering its FREE nationally recognized graduate-level education program for 40 high and middle school teachers at a five-day training course. This program will run from June 24th to June 28th in 2019. If you are an educator interested in applying for this program please send an email request for more information to: cfl@champlain.edu. More than 165 educators have already taken this graduate level course and have had an impact on the lives of thousands of students. This graduate level course is sponsored by Next Gen Personal Finance, a non-profit organization in Palo Alto California, and an anonymous donor.
About Northfield Savings Bank Foundation and Northfield Savings Bank
The Northfield Savings Bank Foundation (NSBF) was established in 2000 through Northfield Savings Bank (NSB) as part of NSB's longstanding commitment to donate 10 percent of its yearly earnings to the local community. The Foundation supports Vermont-based efforts focused around improving residents' well-being and self-sufficiency in areas such as financial literacy, education and at-risk youth. When considering an area of need or partnership, NSBF is deliberate, focused and thorough in its assessment to ensure significant results can be achieved given the amount of time and money to be invested.
Northfield Savings Bank donates 10 percent of its annual earnings to Vermont non-profits as part of its long-standing commitment to give back to the communities it serves. Founded in Northfield, VT in 1867, NSB is a full-service bank offering a full range of community banking, commercial banking and mortgage banking services to consumer and commercial customers. Investment services are available through Northfield Investment Services*. Northfield Savings Bank operates 13 branches throughout central Vermont and Chittenden County stretching from Bethel to Greater Burlington. Member FDIC. Equal Housing Lender. www.nsbvt.com
* Securities, advisory services and insurance products are offered by, and investment Consultants are registered with, INFINEX INVESTMENTS, INC., member FINRA/SIPC, and a Registered Investment Advisor.  Investment Consultants are employees of Northfield Savings Bank, a financial institution, and registered with INFINEX INVESTMENTS, INC., a registered broker dealer.  Northfield Investment Services is a trade name of Northfield Savings Bank.  Northfield Savings Bank is not a broker dealer. Infinex and Northfield Savings Bank are independent entities.
Investment products are: not a deposit, not FDIC insured, not insured by any federal government agency, not guaranteed by the bank, and may go down in value.
 
About Next Gen Personal Finance
Founded in 2014 as a non-profit, Next Gen Personal Finance (NGPF) believes that all young people deserve a free, engaging and high quality financial education to enable them to thrive. NGPF offers middle, high school and college educators the most comprehensive set of online resources that are up-to-date, customizable and curated from the best of the web (and FREE too!). Thousands of teachers in all 50 states have come to rely on NGPF as their "one stop" for financial education resources. For access to NGPF free resources, visit www.ngpf.org.
About Center for Financial Literacy
Established in 2010, Champlain College's Center for Financial Literacy is committed to improving the personal finance knowledge of our nation's K–12 and college students, teachers, and adults. The Center supports this mission with advocacy, published research reports that are used by state and local policymakers, K-12 educator training programs, and providing training and tools for educators and college students. Champlain College is one of the few colleges that requires undergraduates to take personal finance training.
The Center is nationally recognized for its work: by the White House in a 2012 report Every American Financially Empowered for its unique graduate-level training program for high school educators (subject to a National Endowment for Financial Education study and Center study) and its college undergraduate training programs; by the Consumer Financial Protection Bureau in reports for state and local policymakers (see 2015 Report and 2017 Report); and by the press for its Adult and High School Report Cards on Financial Literacy. The Center's founding Director, John Pelletier, was formerly chief operating officer and chief legal officer at some of the largest asset management firms in the United States. John was appointed by the governor to co-chair the Vermont Financial Literacy Commission alongside the Vermont State Treasurer. For more information visit the Center's website: www.champlain.edu/cfl.
About Champlain College
Founded in 1878, Champlain College is a small, not-for-profit, private college in Burlington, Vermont, with additional campuses in Montreal, Canada, and Dublin, Ireland. Champlain offers a traditional undergraduate experience from its beautiful campus overlooking Lake Champlain and over 90 residential undergraduate and online undergraduate and graduate degree programs and certificates. Champlain's distinctive career-driven approach to higher education embodies the notion that true learning occurs when information and experience come together to create knowledge. Champlain College is included in the Princeton Review's The Best 384 Colleges: 2019 Edition. Champlain is named a "Most Innovative School" (for the fourth year in a row) and ranked among the top 100 Regional Universities in the North by U.S. News and World Report. We were also featured as "One of the Best Undergraduate Teaching Programs" and as a "Best Value School". Champlain is featured in the Fiske Guide to Colleges for 2019 as one of the "Best and Most Interesting Schools" in the United States, Canada and Great Britain, and is a 2019 College of Distinction. For more information, visit: www.champlain.edu.