Honoring Our Long History
Date: 11/2/17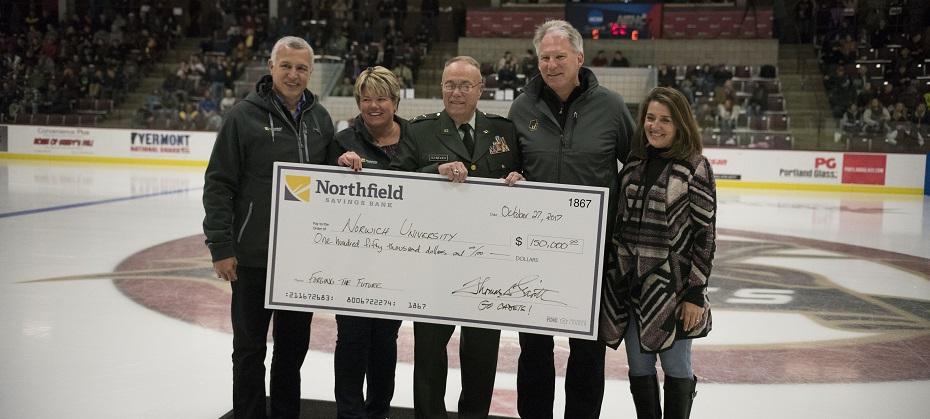 Northfield Saving Bank President Thomas Leavitt, along with other bank officers, presented Norwich University President Richard Schneider with a $150,000 gift to the "Forging the Future" campaign. The presentation, which took place at Kreitzberg Arena on October 27,  honors the longtime relationship between the two institutions.
NSB and Norwich University have enjoyed a 150 year history, beginning with the Bank's founding by Norwich President Rev. Edward Bourns in 1867. This gift brings our total investment in the campaign to $300,000.
" As leading businesses in Central Vermont, Norwich and Northfield Savings Bank have shared responsibility for the towns and Vermont citizens. When our respective businesses thrive, so does the community," Schneider said. "Norwich University and NSB will continue this longstanding legacy of investing in our community in ways that matter - including major work on campus made possible by the Forging the Future campaign."
"For 150 years, more than three-fourths of our nearly 200 year existence, we have been privileged to serve and be served by the town of Northfield and the Northfield Savings Bank, forming a mutually beneficial bond of commitment and shared values," Schneider said.
Leavitt added, "We would not be the institution we are today without Norwich University. The leadership example that Norwich sets for the community, the country, and the world, has been embedded in the bedrock  principles of Northfield Saving Bank. We are grateful for our shared past, and brimming with spirit as we embrace today's moment and look to the horizon of a bright mutual future."