Helping Our Neighbors in Need
Date: 12/28/18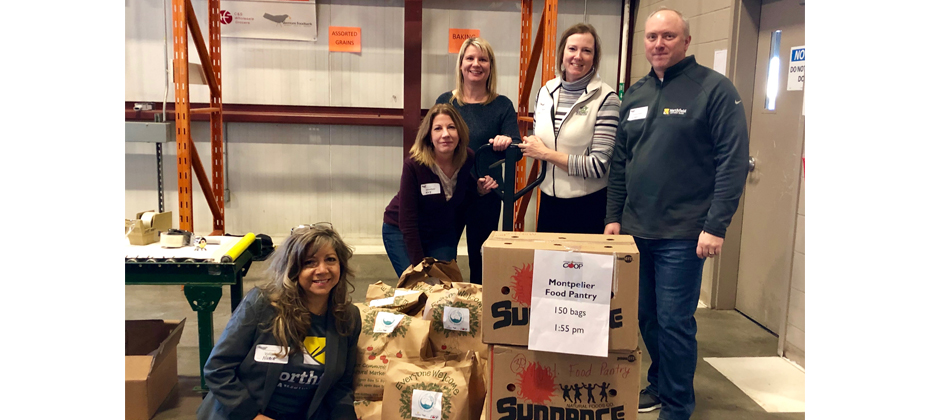 For the fifteenth consecutive December, Hunger Mountain Co-op has supported local organizations and area schools by donating grocery bags filled with nutritious food. To fill the Holiday Grocery Bags with high-need, healthy staples, the Co-op collaborates with Co-op members, shoppers and vendors.
Northfield Savings Bank (NSB) supports the program by donating funds to help purchase high quality, nutritious products, including organic peanut butter, local apples, and freshly baked bread, to fill 650 grocery bags with a retail value of over $30 each.
NSB volunteers (pictured above) also help the day-of at the Vermont Foodbank warehouse in Barre, preparing the grocery packs for pick up by local organizations and schools, including Barre City Elementary, Barre Town School, Central Vermont Home Health and Hospice, Family Center of Washington County, Montpelier Food Pantry, Montpelier Senior Activity Center, Union Elementary School, Downstreet Housing & Community Development, Good Beginnings of Central Vermont, and the Washington Elves for direct distribution to their clients, students, and families.
Co-op shoppers can also donate by rounding up their total to the nearest dollar (through December 30th) to Give Change and help purchase the healthy pantry staples. 

****
Northfield Savings Bank donates 10 percent of its annual earnings to Vermont non-profits as part of its long-standing commitment to give back to the communities it serves.
For more information about Hunger Mountain Co-op, visit their website.
For more information about NSB's Community Giving, visit our Community Giving page.